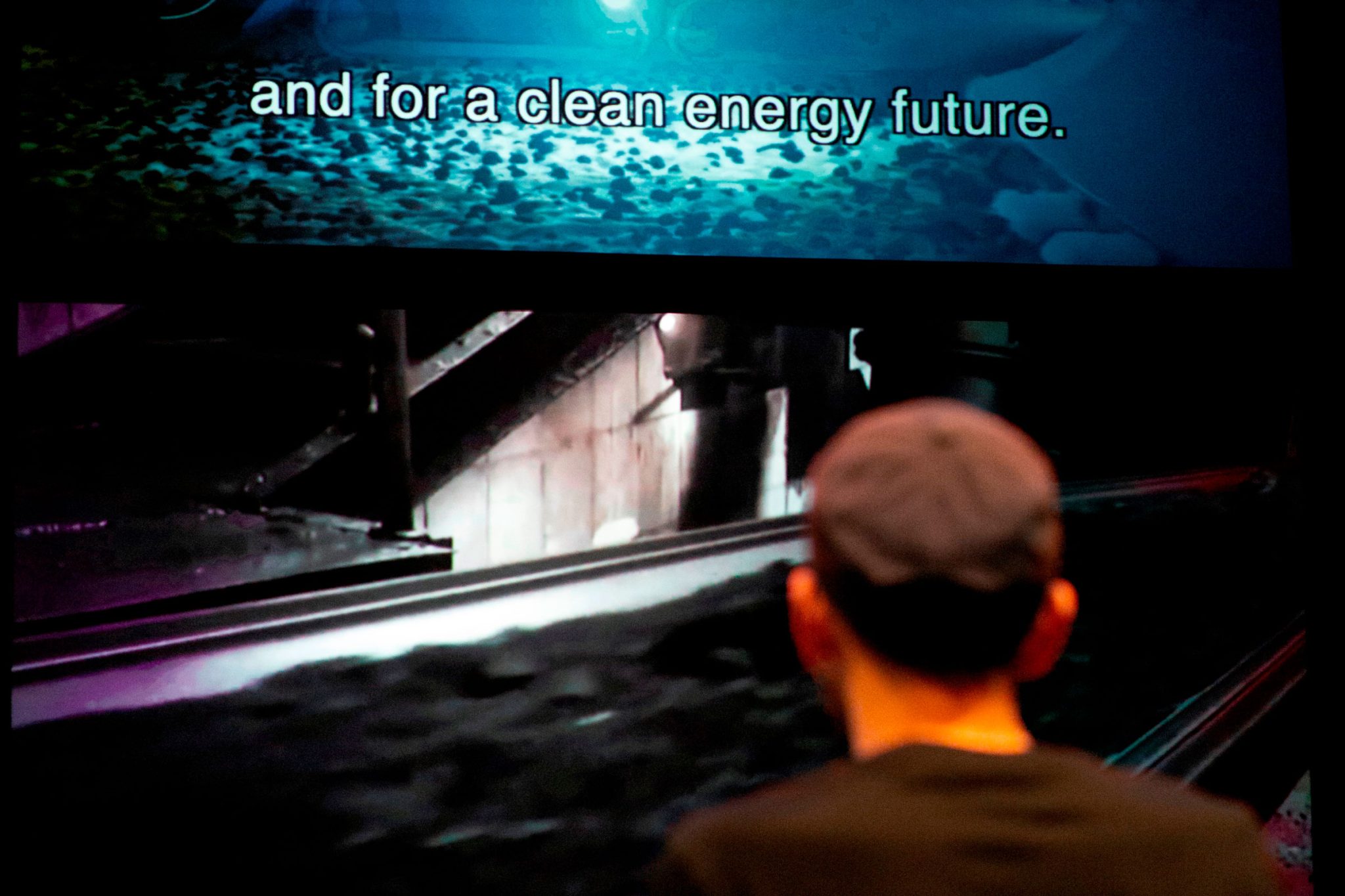 OUT OF THE BLUE
SILKE HUYSMANS AND HANNES DEREERE (Belgium)
When?
Fri 20 Oct 2023 -
Sat 21 Oct 2023
7.15pm
Where?
Studio, Leeds School of Arts
Leeds Beckett University, City Campus, Portland Way
Leeds LS1 3PB
What?
Theatre
Tickets
Pay What You Can £2–£25
Recommended price £15
Plus booking fees
Out of the Blue is an evocative documentary theatre show about the world of deep-sea mining.
Worldwide, only ten percent of the ocean surface has been mapped and explored. At a moment in history when the planet we live on seems to have been explored extensively, some places remain unstudied and untouched but also at great risk.
After their acclaimed performances Mining Stories and Pleasant Island, Silke Huysmans and Hannes Dereere present Out of the Blue – the final part of their trilogy on mining. With resources on land becoming increasingly scarce and overexploited, mining companies turn towards the ocean.
Through a series of interviews and conversations, an intimate portrait of this new industry emerges.
Your Experience
What to expect
This is a seated performance within a theatre venue. Out of the Blue a documentary style performance including video and spoken text
Language
English, with English surtitles
Access information
Surtitles
Contains English surtitles
Step free access
There is step free access to the event and there are accessible toilets at the venue.
Rest area
A rest area is available.
Seating
The tiered seating is high-backed.
Open door policy
We have an open door policy across all shows at Transform, meaning ticket holders are welcome to come and go as they need.
Credits
Produced by CAMPO.
Co-produced by Bunker (Ljubljana), De Brakke Grond (Amsterdam), Noorderzon – Festival of Performing Arts and Society (Groningen), Zürcher Theater Spektakel (Zürich), Beursschouwburg & Kunstenfestivaldesarts (Brussels), PACT Zollverein (Essen), Théâtre de la Ville (Paris) & Festival d'Automne à Paris (Paris).
You may also like: