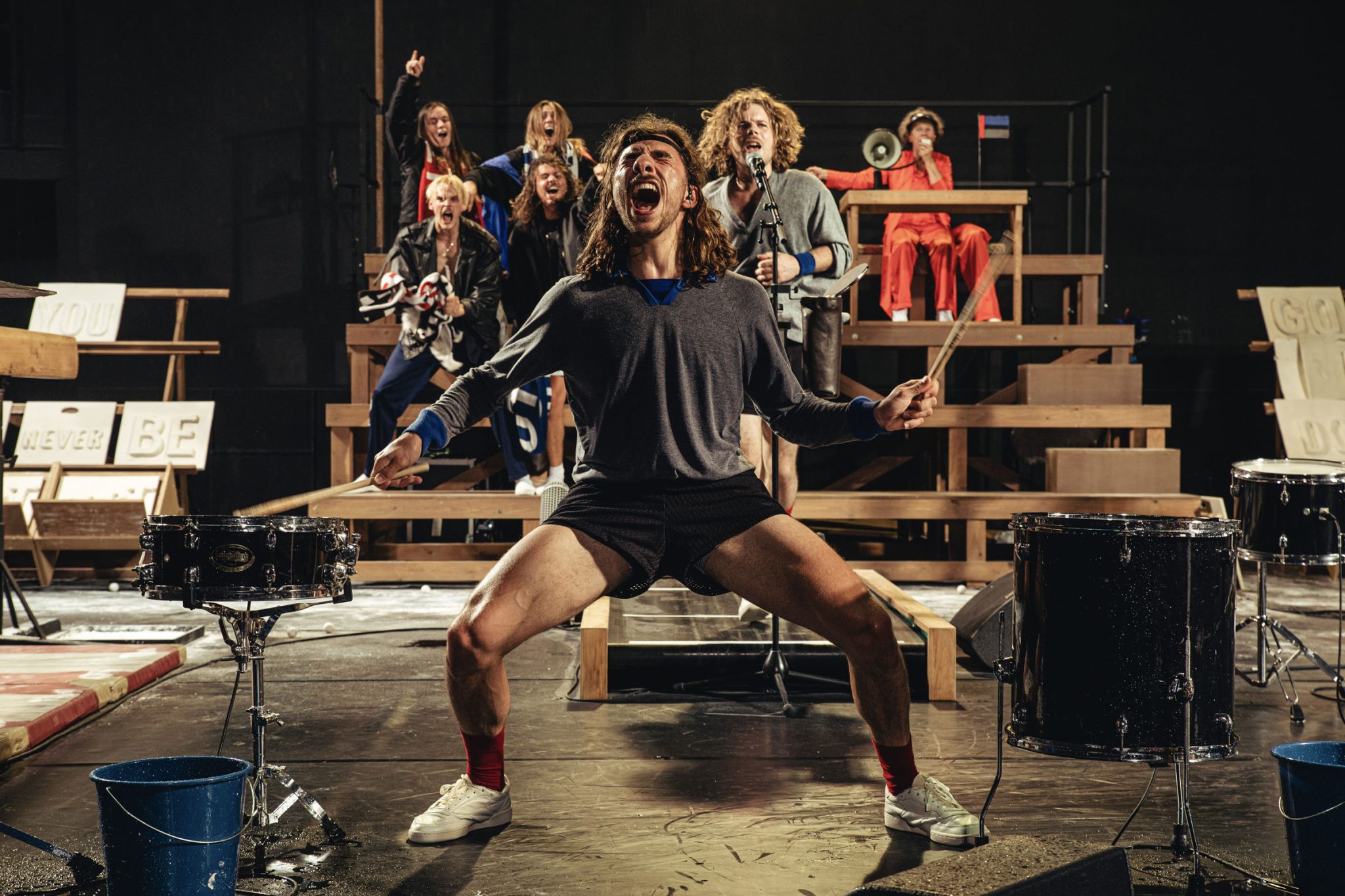 ONE SONG
MIET WARLOP (Belgium)
When?
Thu 19 Oct 2023 -
Fri 20 Oct 2023
7.30pm
Where?
Quarry Theatre, Leeds Playhouse
Playhouse Square, Quarry Hill, Leeds LS2 7UP
What?
Theatre, Performance, Music
Tickets
Pay What You Can £2–£25
Recommended price £25
Plus booking fees
This spectacular performance is part sports competition, part concert – on an epic scale.
In ONE SONG, a group of musicians complete a workout whilst performing a single song – over and over. A cheerleader, a commentator and watching fans spectate as this mesmerising ritual unfolds – cheering and heckling by turns.
Belgian artist Miet Warlop and an ensemble of extraordinary performers invite us to witness this exhilarating physical struggle, grappling with themes of life and death, hope and rebirth, as well as the bodily realities of sweat, pain and exhaustion.
ONE SONG was featured in the New York Times' round-up of the best theatre in Europe for 2022.
Your Experience
What to expect
This is a seated performance within a theatre venue. The performance contains song, music and movement.
Content guidance
Contains loud music (ear plugs will be available).
Access information
Captions
Both performances are captioned.
Step free acess
There is step free access to the event and there are accessible toilets at the venue.
Seating
The tiered seating is high-backed.
Open door policy
We have an open door policy across all shows at Transform, meaning ticket holders are welcome to come and go as they need.
Credits
Produced by NTGent & Miet Warlop, Irene Wool vzw. Co-produced by Festival d'Avignon, deSingel (Antwerp), Tandem Scène nationale Arras-Douai, Théâtre Dijon Bourgogne Centre dramatique national, HAU Hebbel am Ufer (Berlin), La Comédie de Valence, Centre dramatique national Drôme – Ardèche, Teatre Lliure Barcelona. Supported by the Flemish Government, Tax Shelter of the Belgian Federal Government, Frans Brood Productions. 
Performances at Transform 23 co-presented by Transform and Battersea Arts Centre and using public funding through the national lottery from Arts Council England. 
You may also like: