WELCOME TO TRANSFORM 21-22
Thu 21 Oct 2021
Transform 21-22 is an experiment to reimagine what an international festival can look like and represent in the future. It is an invitation to artists and communities to join us in manifesting an extended festival for our times, one that is slower, more sustainable and more embedded. 
From this October 2021 until April 2022, our extended festival will invite audiences from across Leeds and beyond to rediscover and explore the city and to connect with bold, brave, vivid and socially-conscious performance by powerful artists from across the globe. 
LAUNCHING THE EXTENDED FESTIVAL 
Launching with 'A Festival for our Times: Transform 21-22 Gathering' we are taking over the iconic site of The Tetley on Thursday 21 October for an immersive evening and revealing some of the extraordinary artists who we are sparking collaborations with over the coming months. This Saturday 23 October, the first world premiere of Transform 21-22 will unfold across the Quarry Stage of Leeds Playhouse, as internationally renowned company Quarantine create an extraordinary portrait of the city and celebrate people of Leeds as part of '12 Last Songs'.

Building the momentum of the extended festival, established Leeds based company The Grief Series has been commissioned to create a collaborative and cathartic public artwork. 'The Ofrenda' (Spanish for 'offering') will see The Grief Series collaborate with Mexico's Zion Studio to collect memories from across the city and the world. The results of this international collaboration will culminate in an ever-evolving, soul-bearing installation encompassing the breadth of exterior of CLAY: Centre for Live Art Yorkshire. People across Leeds and beyond will be invited to share photos and memories which will contribute to the artwork, immortalising their loved ones within a cathartic, collaborative installation. 'The Ofrenda' will underpin the extended festival, launching on Thursday 18 November and running until 19 March 2022. Booking is now open for The Ofrenda Gathering, a special event at CLAY on Thursday 18 November, where The Grief Series and Zion Studio will unveil The Ofrenda and offer an exclusive insight into the creation of this extraordinary project. 
INTRODUCING TRANSFORM 21-22 COLLABORATORS 
We are also thrilled to introduce the first wave of the trailblazing artists and creatives who we are collaborating with as part of Transform 21-22. From international and embedded residencies working with local communities on hyper-local projects, to transatlantic exchanges and the creation of bold, uncompromising productions, we're joining forces with exceptional local, national and international artists to conjure up a re-imagined festival experience over the next 6 months. Embracing a different kind of festival approach, we are thrilled to be embarking on these embedded collaborations and hyper-local residencies, bringing audiences and communities into the process of the creation of new works, some of which will culminate in fully fledged productions this Spring, and others which will later be realised as part of our following festival Transform 23 (planned for October 2023).  
Further bold and powerful performances and a series of exciting UK and world premieres will be announced in the coming months. In the meantime, we are excited to introduce some of our Transform 21-22 collaborators… 

Jamal Gerald is a Leeds based artist. Aiming to take up space as a Black queer person, his work is conversational, unapologetic and provocative with a social message. Jamal likes to cause trouble. He makes work that he wants to see, including for theatres, poetry slams, cafes, films and parties. Jamal previously premiered 'Idol'at Transform 19, an autobiographical work exploring religion, Black representation and pop culture. He now wants to move away from presenting autobiographical shows, challenging himself by exploring ideas that don't rely heavily on his own stories.
Jamal is currently working on a brand-new production for Transform 21-22 titled 'JUMBIE', a Caribbean term for 'spirit of the dead'. The production will explore the Jumbie dance of Montserrat, a trance ritual for divining, curing sickness and redress of social injustice. Jamal is interested in and exploring chaos, the supernatural (through a Black queer lens), BDSM, and African diasporic religions. Creating an experience that is part ritual, part party, part sex dungeon, Jamal wants the audience to leave thinking 'what the fuck just happened?'.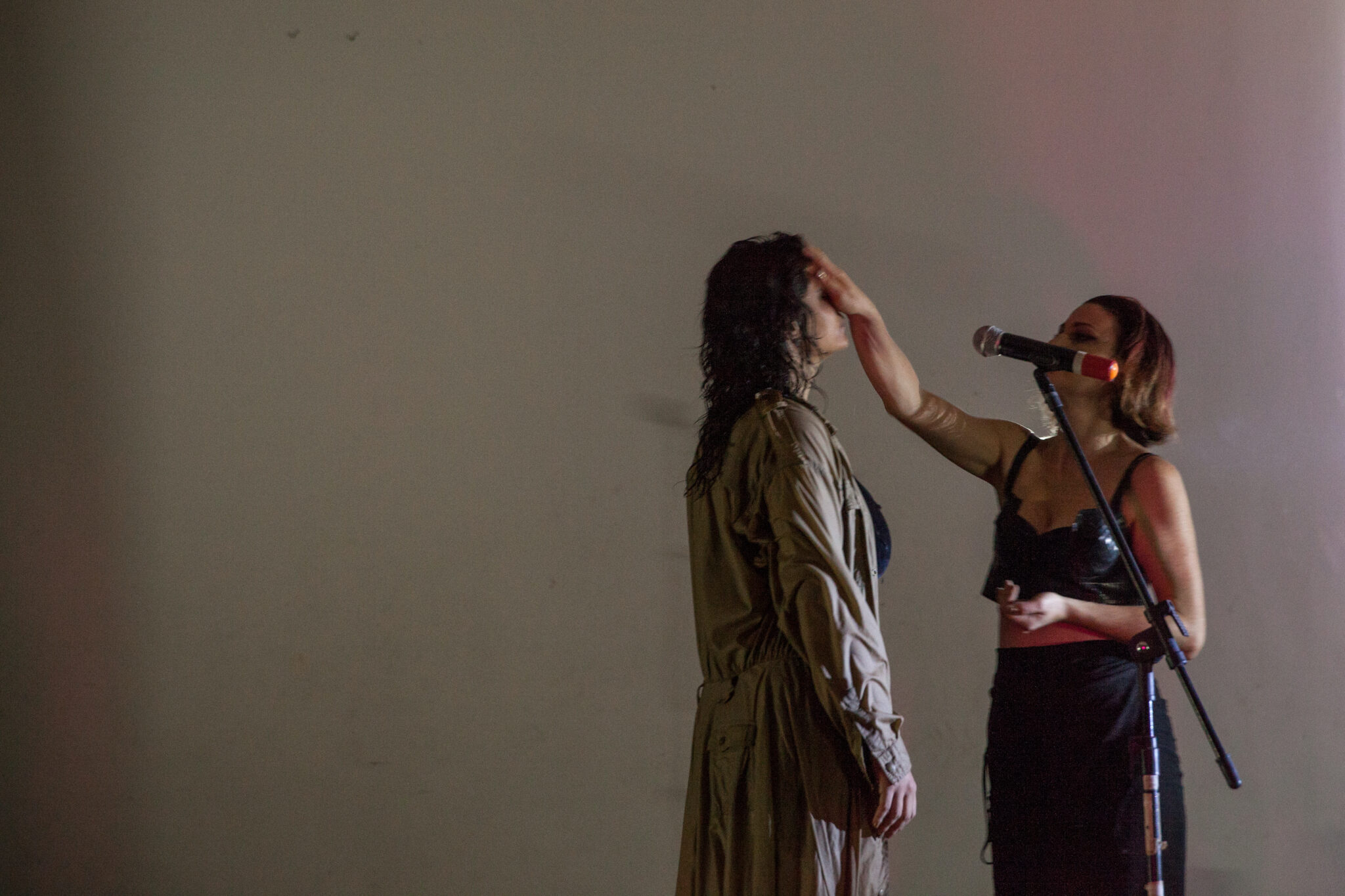 LOWRI EVANS & MARTHA KISS PERRONE
Lowri Evans and Martha Kiss Perrone's artistic partnership has spanned a decade, making work both in Brazil and the UK. In 2013 they made 'Rózà', interspersing the life of revolutionary Rosa Luxemburg with the protests and uprisings of Brazil happening around them. In 2018 they made 'Revolta Lilith', that celebrated the disobedience of women throughout time, beginning with Lilith, the first woman, erased from history. It was from this collaboration that coletivA ocupação were born. Martha directed and Lowri produced coletivA's When It Breaks It Burns, a sell-out success debut at Transform 19.
Lowri and Martha's performances, films, rituals and workshops are known for their collision of artforms, curiosity and fearlessness, and creation that starts with the body and culminates in text, movement, image and collective experience exploding off the stage.
As part of Transform 21-22, the pair return to Leeds to embark on a wild residency. Part road-trip, part experimental laboratory: they will seek to create relationships with older women and ask: what can you teach us? Summoning the powers of old age, these voices will be at the heart of a brand-new narrative.

Rachel Mars is a London based, multi-award winning writer and performer with a background in theatre, live art and comedy. She grew up as the only gay in a British/Jewish family that attempted to balance English propriety with Yiddishe volume. 
 Her recent shows have included a choral celebration of envy ('Our Carnal Hearts') and a Queer history of filthy sex communication ('Your Sexts Are Shit: Older Better Letters'). She has toured her work at international festivals in Europe, the US and Australia. As part of Transform 21-22, Rachel is developing a new work called FORGERY… 
In 2014, the 100kg iron 'welcome' gate was stolen from the Dachau concentration camp. A local blacksmith made a replica. It was exactly like the original. Rachel Mars has never been to Dachau but a lot of her family ended up in places just like it. In 2022, Rachel will come to Leeds to make an exact replica of the replica gate in three days, out of 60 kilos of mild steel and some recently acquired welding skills. The audience will be invited to watch. 
Part of a larger-scale body of work called FORGE – FORGERY will engage people across the city in conversation and examine how objects become contaminated by history, and how to balance living with a traumatic past with a responsibility to the present.  

Lua Bairstow is a Bradford based artist and performer. Their work is the product of a introspective, intuitive process that abstracts from & plays with their own lived experience and perspectives of the world as a queer & neurodivergent person.  
Over the last five years, Lua has been creating short films and collecting sound recordings that document liminal, every day spaces within Lua's life that get overlooked, are misunderstood or have been forgotten. Using this documentation, Lua is building a sound world to escape into, and speak from, which reflects on Lua's experiences of living whilst grieving. 
Within the framework of Transform 21-22, Lua is being supported by Transform and Bradford Producing Hub to develop their practise and evolve what is currently titled The Sound Grief Project.  
Lua has been working with composer, turntablist and performer, Mariam Rezaei & composer and harpist Georgie Buchanan, to punctuate the festival with deep listening parties and moments for reflection and contemplation. 

Sable Radio is an online radio station and creative media platform made in Leeds and enjoyed worldwide. They broadcast, curate programmes, produce podcasts and films, run workshops and throw parties. Sable Radio has worked on projects with partners including Black Obsidian Sound System, Fact Liverpool, Leeds West Indian Carnival and Leeds 2023 as well as producing a range of in-house projects such as Separation Anxiety and ReSound.  
Sable Radio are collaborating with us to develop a party's programme for Transform 21-22. Their focus centres on themes of alternative club culture, intimacy, collective action, collaboration, ritual and healing. Working with artists at the intersection of performance and club culture they will be challenging traditional club spaces to shape a vibrant, inclusive and alternative live club space across the festival programme. 

Based in Brazil, MEXA was formed in 2015 as an activist initiative, following episodes of violence in homeless shelters in São Paulo. The group was founded by artists, homeless people, women and members of the LGBTQI+ community. Since its genesis, the collective explores and debates the distances and proximities between the street and the museum, life and art, politics and aesthetics. The abysses between these spaces and possibilities of building bridges between are an object of fascination and focus for MEXA creations.  
 The collective's recent work 'the more you rehearse, the worse it gets' was commissioned as part of the Panorama Raft programme, and is an attempt to build a work collectively within an established timeframe, as a communal process of editing and re-editing what is both fiction and fact. Within the framework of Transform 21-22, MEXA will share their process in different formats and embark on a remote collaboration with artists and communities in Leeds, collectively constructing a new creation connecting Brazil and the UK. 

jumatatu m. poe is a choreographer and performer based between Philadelphia and Durham (USA) who grew up dancing around the living room and at parties with their siblings and cousins. jumatatu's exposure to concert dance was through African dance and capoeira performances on California college campuses where their Pan-Africanist parents studied and worked, but they did not start "formal" dance training until college with Umfundalai, Kariamu Welsh's contemporary African dance technique. 
Jumatatu's work continues to be influenced by various sources, including foundations in those living rooms and parties, early technical training in contemporary African dance and continued study of contemporary dance and performance, and sociological research of and technical training in J-sette performance with Donte Beacham. jumatatu strives to engage in and further dialogues with Black queer folks, creating lovingly agitating performance work that recognizes History as only one option for the contextualization of the present. Within the framework of Transform 21-22, jumatatu will undertake a residency in Leeds, exploring and considering landscape, the environment and indigenous dance practises and connecting with the city's various ecologies. 
As part of our commitment to nurturing bold new performance and reimagining what a festival can look like and do, over the coming years Transform will invite 16–21-year-olds across the Leeds City Region to reimagine what our festivals can look like. Exploring anything from activism to sustainability and identity – younger people across Leeds will be responsible for creating vivid new performances and interventions across iconic sites and spaces of Leeds. Ensuring decision-making power shifts in relation to what the Transform festivals look like and represent, elements of the Transform festivals will be curated and commissioned by 16-21's.
To kick-start this exciting venture, 6 young curators will be collaborating with Transform over the coming months to shape aspects of Transform 21-22. Collaborating with artists from across the world and the Transform team, these curators will vision and shape adventurous new projects engaging other young people across the city.