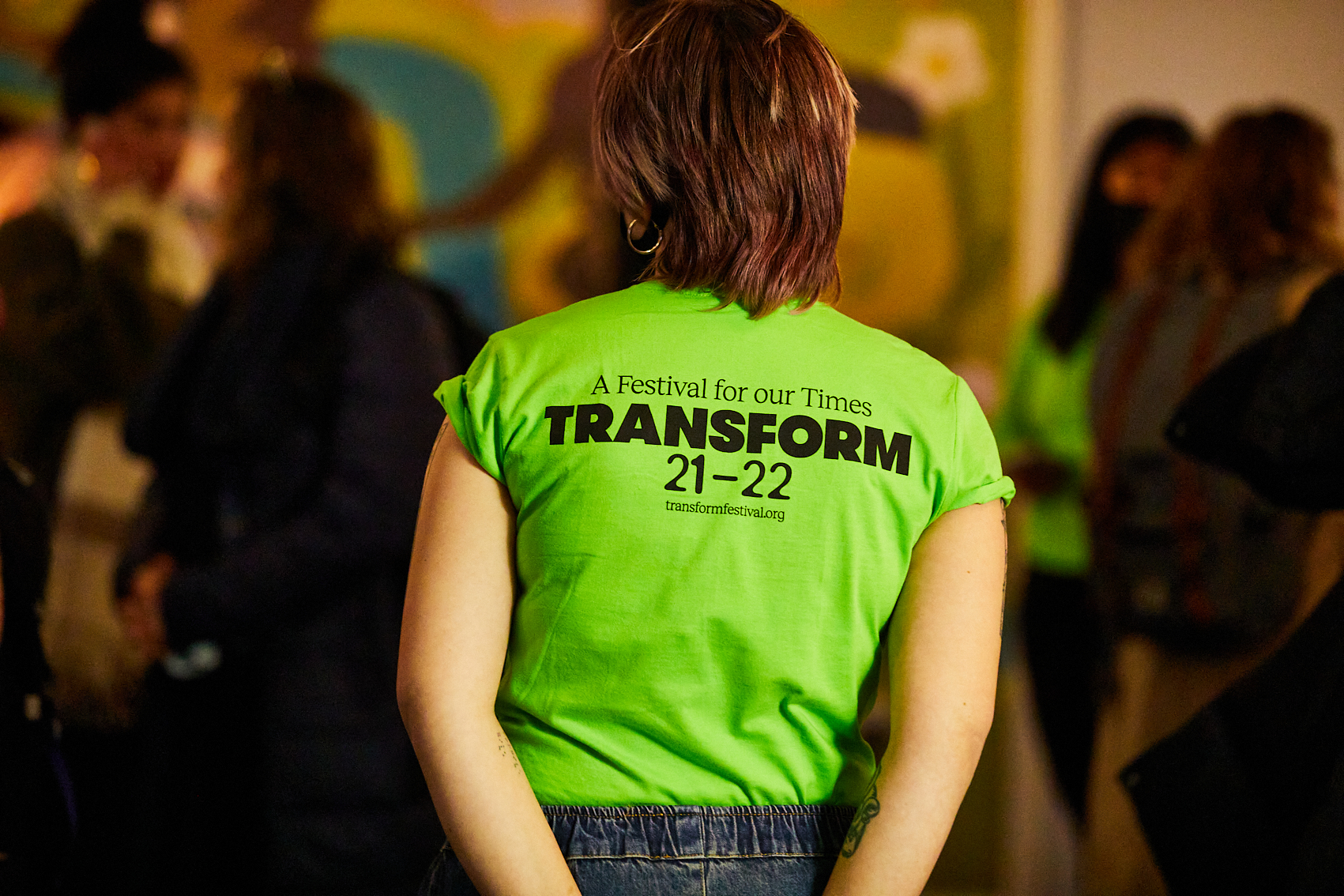 VOLUNTEER CALL OUT
Deadline
Fri 29 Sep 2023
Volunteers are fundamental to realising Transform international festival – we are looking for people who have an interest in bold, brave, vivid and socially-conscious performance and who are excited about supporting a brave and ambitious international festival for Leeds. Volunteers will welcome international artists to the city, spread the word about the festival and support the stewarding and delivery of festival shows and events.
This is a great opportunity for anyone who is passionate about bold arts and culture, and who wants to get up close to what's involved in realising a major international festival.
Are you based in the Leeds City Region and have a passion for arts & culture? Then this could be the role for you!
01
OVERVIEW
Being a Volunteer  is a great way to meet new people, gain festival experience, and be part of bringing a major cultural event for Leeds to life.
As a Volunteer, you could be involved in:
Spreading the word about Transform 23 and supporting the festival marketing campaign
Acting as a Group Host to local and international artists
Being a point of contact for festival audiences and gathering feedback
Stewarding events, performances, and workshops
Supporting as a translator for visiting international artists
Acting as an ambassador for the festival
Volunteer Roles include:
Front of House/Event Support
Marketing/Advocacy Support
Audience engagement (conducting surveys, gathering public feedback)
Artist Liaison/Group Host
No particular skills or qualifications are required to volunteer for the festival; however, volunteers should have an interest in arts and culture, and enjoy working in a dynamic festival setting. For the Artist Liaison roles, we are particularly interested to hear from those who have a proficiency in speaking Brazilian Portuguese, Italian and Flemish – but are generally looking for those who want to get stuck in and support across a variety of events and tasks.
We ask that all Volunteers can complete at least three shifts across the festival delivery period. Most venues are in the city centre or close by. For volunteers who are not based nearby, reasonable travel expenses will be covered.
You will need to attend an evening briefing session which take place on w/c 2 October 2023. Please select the briefing session that you would like to attend on the Expression of Interest form below.
03
ACCESS & INCLUSION
As an international festival that celebrates diversity in all its forms, it is important to us that our delivery team is representative of our artists and audiences. We particularly encourage applications from people who are currently under-represented within the UK arts sector – including those from lower socio-economic backgrounds, who are ethnically and culturally diverse and who experience racism, who are disabled and neuro-diverse.
If you require this call out in a different format, would like any support with the application process, or wish to discuss any access needs related to the undertaking of this role, please contact Siana-Mae Heppell-Secker, General Manager: siana-mae@transformfestival.org
Please find the audio version of the call out here. 
Please find the word version of the call out here.